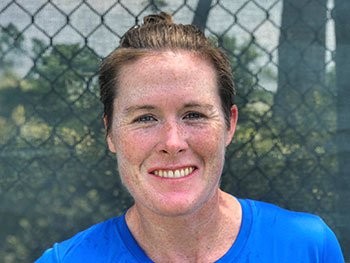 HILTON HEAD ISLAND, SC (July 2018) — Palmetto Dunes Oceanfront Resort continues to remain on the cutting edge in the sport of Pickleball. The renowned, mid-island Hilton Head resort has announced the hiring of Sarah Ansboury as its Pickleball Touring Professional and Director of Pickleball Instruction.
A nationally ranked tennis player, Ansboury discovered Pickleball in 2014 and was instantly hooked. She entered her first national Pickleball tournaments in 2015 and earned Gold and Silver at the September 2015 Tournament of Champions. In November, she medaled four times at the USAPA National Tournament including winning Gold in the Women's Doubles Open with her friend and partner, Gigi LeMaster.
"The addition of Sarah Ansboury to our staff elevates our teaching and programming to the very highest level," said Palmetto Dunes' longtime Director of Tennis & Pickleball John Kerr. "Sarah has been a pioneer in the Pickleball explosion of the last few years and we are thrilled she will be with us at Palmetto Dunes."
Ansboury can be reached at sarah@palmettodunes.com or by calling (843) 785-1152.
One of America's fastest growing sports in terms of popularity, Pickleball is a fun sport that combines elements of tennis, badminton and Ping-Pong. Pickleball can be played both indoors or outdoors on a badminton-sized court and with a slightly modified tennis net and can be played as doubles or singles.
All ages and skill levels can play the game. The rules are simple and Pickleball is easy for beginners to learn, but can develop into a quick, fast-paced, competitive game for experienced players.
The award-winning Palmetto Dunes Tennis and Pickleball Center boasts 23 clay tennis courts including six lighted for night play, eight Pickleball courts and a beautifully well-stocked, 1,800-square-foot tennis pro shop — Hilton Head Island's largest. The Palmetto Dunes Tennis and Pickleball Center has been named the top tennis resort in the Carolinas by Tennis Magazine.
For most of Ansboury's professional career she has resided in the Portland, Oregon area. As a member of the U.S. Professional Tennis Association (USPTA), she has benefitted from continuing education on fitness, racket sport body mechanics, instructional methods and sports psychology. She applied this education as a private tennis instructor, teaching club members and elite junior athletes, as well as a NCAA women's tennis coach. Ansboury also competed nationally at the Open level as well as 5.5 rated leagues in the U.S. Tennis Association (USTA).
The USA Pickleball Association (USAPA) and Professional Tennis Registry (PTR) have formed a strategic alliance to grow the sport of Pickleball. The new PTR subsidiary (PPR) will become the official education and certification partner of the USAPA. Ansboury has agreed to design the PPR's curriculum and certification programs.
Ansboury has been traveling the country working with recreational and advanced players to improve their all around game technically, mentally, strategically and through improved fitness. "This has been a wonderful experience to help grow the sport of Pickleball and see it advance so much in such a short time," she said.
"I look forward to bringing my academies to Palmetto Dunes," Ansboury said. "My goal is to turn this area into one of the most popular Pickleball destinations. I'm very excited to have a regular place to train for my own competitive play, as well as teach."