Q: How long have you been playing Pickleball?
A: I started playing pickleball under five years ago. A little over four years ago, I was teaching tennis at a club. I kind of randomly picked up pickleball and all the club members started doing it. And ever since then it's been nonstop.
Q: What drew you to the game?
A: I think what's interesting about pickleball and why I think so many people like it, is that it's such a new sport coming from the tennis community and the tennis world. You know, it's like the snowboarding versus skiing type of thing. It's a little bit more relaxed and a lot more sociable and it's expanding and growing as we speak, so you can't really deny wanting to be a part of it.
Q: What are your tips for someone who's never played before?
A: I'd say to anyone who wants to start playing that the first thing to do is to get out on the court. Learning pickleball has probably one of the easiest learning curves compared to especially most racket or paddle sports. So coming out, enjoying some open play with just random people, and then taking a couple of lessons and really getting to know how to play the sport properly. Then you can be out competing or socializing any way that you want as soon as possible.
Q: Do you have a favorite pickleball moment?
A: I'd say the most memorable moment was actually probably one of my earlier moments—the first time I won nationals. It was in 2015 and my first nationals [and I was playing] with my good friend Gigi Le Master. I don't think I can beat that moment. I was completely not expecting to do very well at nationals, to be honest. It was my first experience with it and to have someone that was so much more experienced playing with me…it's the most amazing thing that I've been able to experience since I started.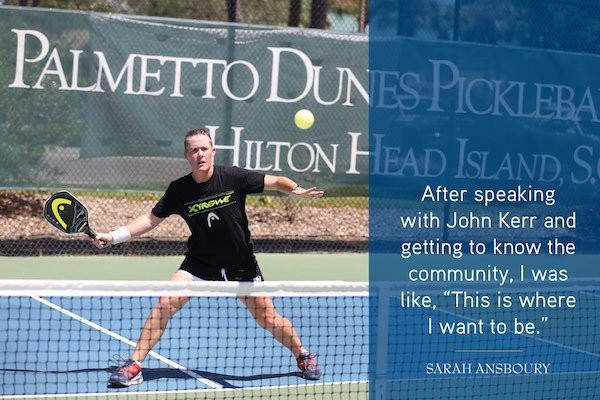 Q: What brought you to Palmetto Dunes Oceanfront Resort?
A: I did not expect to be at Hilton Head at all. I took a job recently with a professional pickleball registry, which is based out of Hilton Head, and I didn't really have the expectation of moving here, to be honest. I came out and I met John Kerr and to look at the club at Palmetto Dunes. I ended up taking out some locals to play. After speaking with him and getting to know the community, I was like, "This is where I want to be." It was kind of a no-brainer. It was definitely unexpected but it was within a day I recognized what I wanted to do here.
Q: What are you looking forward to, working at Palmetto Dunes?
A: Right now, I've been here about a month, but we have a lot of goals in our programming. I'm mostly doing semi-private [lessons], privates, special groups for people who want to come here and kind of set up their own little private academy. We have our first four-day Academy on September 25th so sign-ups started last week. Then, in upcoming months we'll add some evening programming and clinics for adults and kids and everything so we're really looking forward to that.
We're so thrilled to have Sarah Ansboury join our team, and we can't wait to welcome you too, to try pickleball at Palmetto Dunes.