Longtime Palmetto Dunes Oceanfront Resort Director of Golf Instruction Doug Weaver once made history at storied Oak Hill Country Club near Rochester, N.Y., which plays host to the 2023 PGA Championship.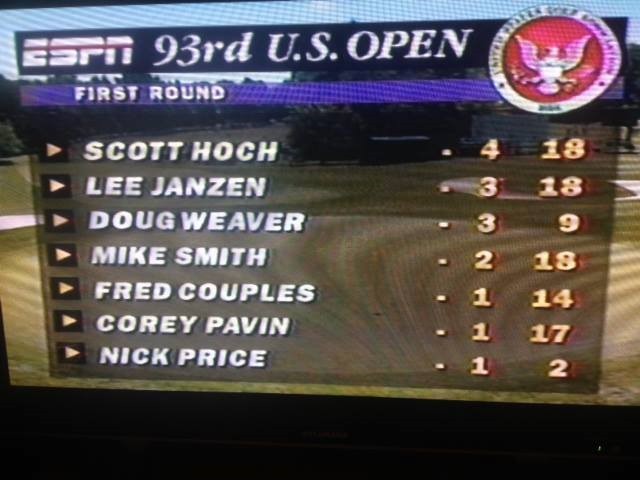 Four Aces at Oak Hill Country Club 
Doug's heroics occurred during a different major championship. As a tour rookie competing in his first U.S. Open in 1989, Doug became the first of four contenders to ace Oak Hill's sixth hole during a breathtaking span of one hour and 50 minutes. The hole was playing 159 yards that day and Doug expertly employed a 7-iron for his magical shot. Nick Price, Jerry Pate and Mark Wiebe were the other three who made aces in under two hours.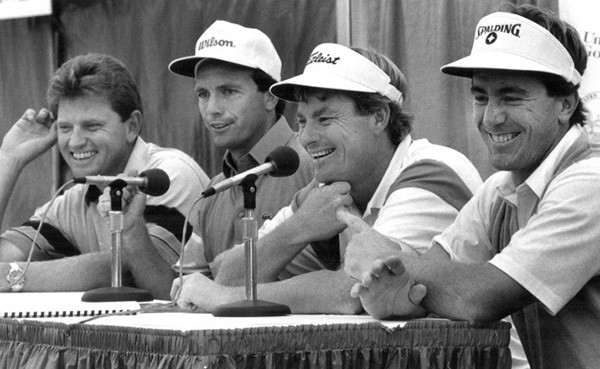 There is now a stone monument on the site at Oak Hill commemorating the event.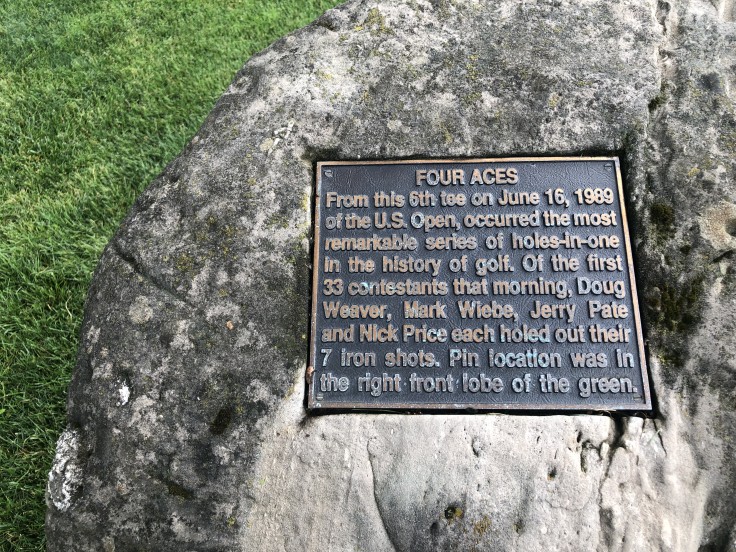 When the 2019 U.S. Open was played at Oak Hill, News 8 and RochesterFirst.com sports anchor and reporter Thad Brown put together a video about that memorable morning, including interviews with all four golfers and other witnesses. The video can be viewed here:
https://www.rochesterfirst.com/sports/local-sports/remembering-the-four-aces/2019991952
1989 U.S. Open Highlights 
"The feeling that moment after a hole-in-one during a U.S. Open was euphoric," Doug recalls more than three decades later. "The toughest shot in golf is the one after a great shot. Hole No. 7 (at Oak Hill) is a 430-yard par 4 with a creek down the right side."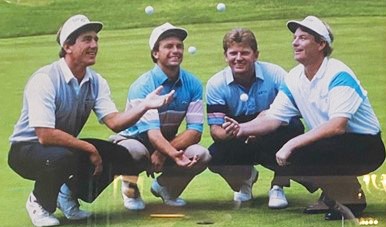 "My caddie was wise," Doug says. "He wouldn't give me the driver until I proved my heart rate calmed down. He asked the other players to hit first. This gave me three minutes more of regaining my steady heart rate."
Doug recalled a growing buzz in the Oak Hill crowd as curious spectators continued to gather around to see what had happened and who did it. "This movement in the crowd added to the distractions," he says. "The caddie pulled my visor down so I couldn't see the movement."
"I hit the fairway and went on to make the cut."
Despite the celebrations at Oak Hill in '89, few knew what was going on behind the scenes for Doug.
"My dad had just found out he was going to have cancer surgery the following Monday," he recalls. "The news of dad's cancer and surgery was kept from my wife, Trish, and I. People that did not usually call were calling to encourage me but said nothing of dad. My pastor, knowing dad's situation called Wednesday night and prayed: 'God, it is not realistic that Doug wins the U.S. Open. Can you have him play his best, make the cut and do something special?'
"It was very unusual that dad and mom did not attend (the U.S. Open). Looking back, I can see signs that would be clues. My college football brother who disliked playing golf showed up. He had never been to a golf tournament. He told me about my dad's surgery an hour after my Sunday finish."
Doug Weaver Career Highlights
For Doug — who was inducted in the Lowcountry Golf Hall of Fame in 2017 and is consistently ranked among the state's best instructors — that historic event at Oak Hill became one of many professional highlights. Doug captured 14 mini-tour titles and played in PGA Tour events during six years spanning three decades, including three Top-25 finishes.
At the time, the hole-in-one at Oak Hill was Doug's eighth. Today, he has 10 aces to his name. His most recent "perfect swing" took place on the sixth hole of the Fazio Course at Palmetto Dunes (a 6-iron from 170 yards) during a playing lesson with a 12-year-old boy. "He quickly ran all the way to the green to verify it went in," Doug says with a laugh.
Golf Lessons Under Pressure
Doug said when golfers are practicing and preparing to execute a shot under pressure like he did that day at Oak Hill, they should consider "The Four Boxes" — or what Doug describes as "a pre-shot routine that organizes and simplifies our thoughts into a feel that we must trust."
Rest Box is "the biggest box with many thoughts that we want to simplify," Doug says. "Here we begin breathing systematically, becoming aware of any tension and then eliminating it while making decisions."

Memory Box is "a smaller box and here we choose to remember a successful similar shot. We dwell on this and it triggers positive emotions and feelings. A memory is a picture and a picture is worth a thousand words."

Think Box is "even smaller,  where we consciously execute the moves in a practice swing required for the desired shot. We practice swing with the purpose of creating a feeling. The feeling is encouraging and simple. We take only the feeling into the Play Box."

Play Box is "the smallest box, where we are focused on the feeling and are playful and trusting, allowing no other thoughts in."
Try Doug's free, Monday clinics at the Toptracer Range (located at the Robert Trent Jones Course) from 4 - 5 p.m. or view more information on other world-class golf instruction programs go here or call 866-744-7558.