Sports have a great way of bringing people together, especially when it comes to parents bonding with their kids. Dave and his son Michael traveled all the way from New York to take multiple golf lessons with Doug Weaver at Palmetto Dunes Oceanfront Resort. Dave told us, "Father-son time is incredibly important and there's nothing better than playing golf with your son. Playing lessons here are very helpful. Doug is a great instructor; he is very encouraging and makes the entire trip a joy." Watch the video above for Dave's testimonial and read on for more insight into their time here at Palmetto Dunes.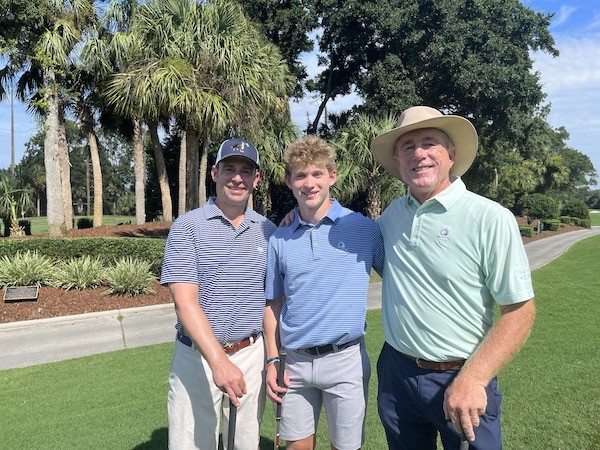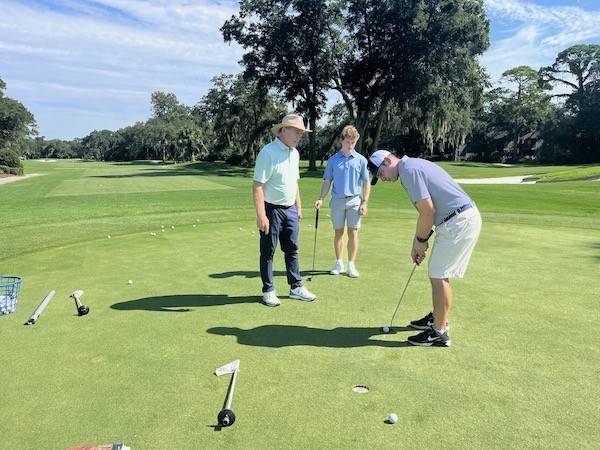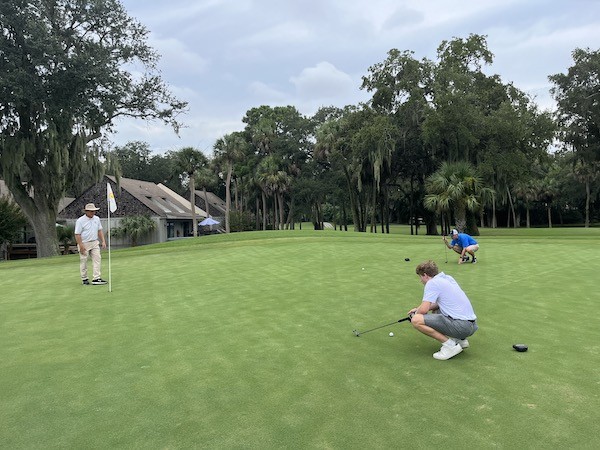 Hilton Head Island Golf Academy
Doug Weaver, Director of Golf Instruction and a former PGA Tour Pro, was excited to get the opportunity to work Dave and Michael and help them grow as players. Over the course of a few days, they were able to spend their mornings and afternoons in golf and playing lessons.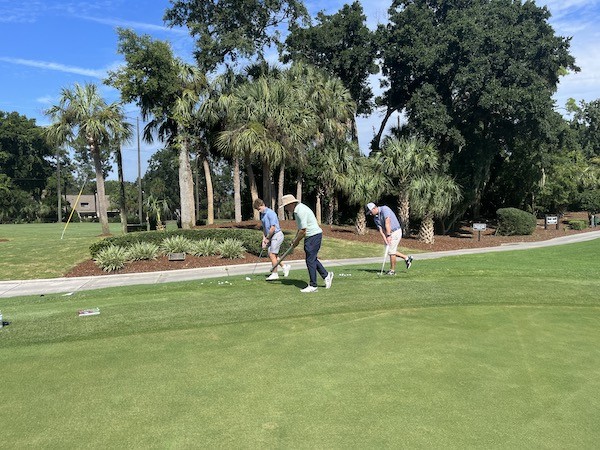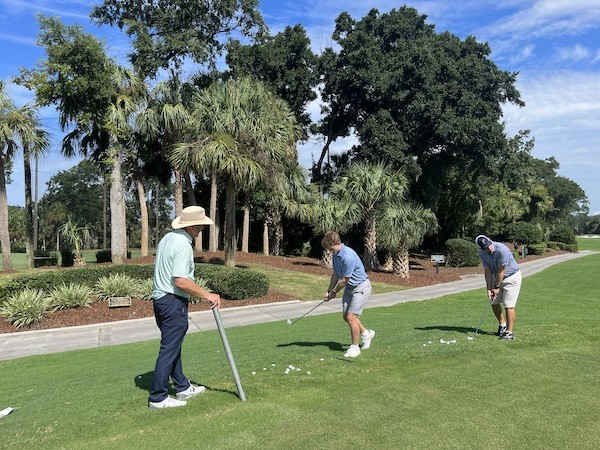 They would start the day with some drills. The flamingo drill (pictured above) is focused on improving chipping and it helps force you to put more weight on your left foot. They worked on the fundamentals of putting and chipping for an hour, moved on to driving techniques and then played a round on the Robert Trent Jones Course with Doug's guidance.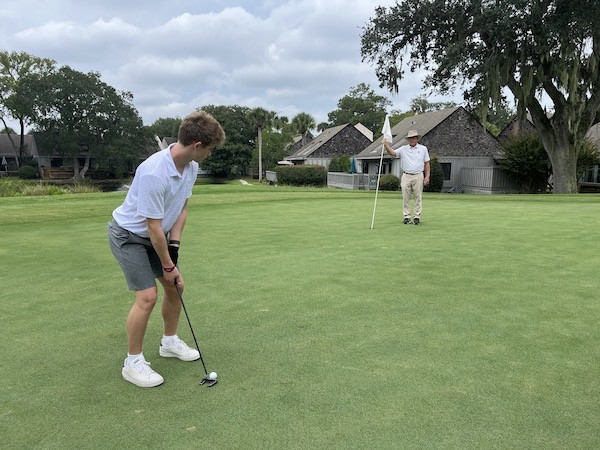 Lessons Focused on the Golf Fundamentals
Doug went on to let us know the benefits of participating in a playing lesson. "Old habits can creep back into your round. You must stay diligent and keep on the fundamentals you learned in the lesson to build up new habits. During a play lesson, myself or another Palmetto Dunes Golf Academy professional will give you guidance as you play a real round of golf."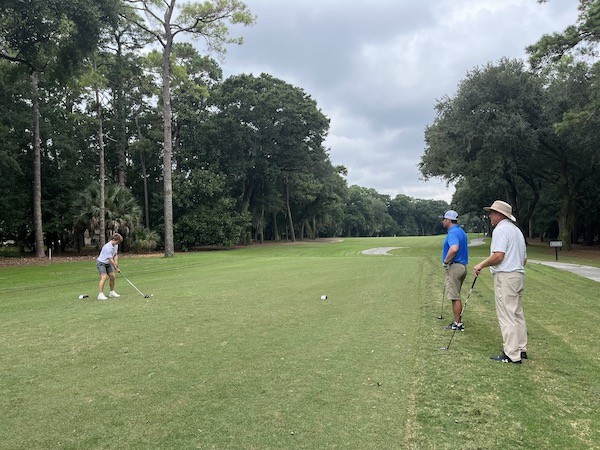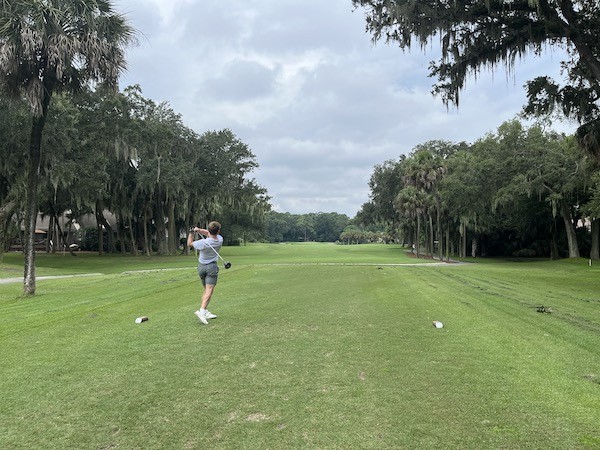 Michael started out with a tighter grip and stance, so Doug worked with him on building a loose and relaxed approach.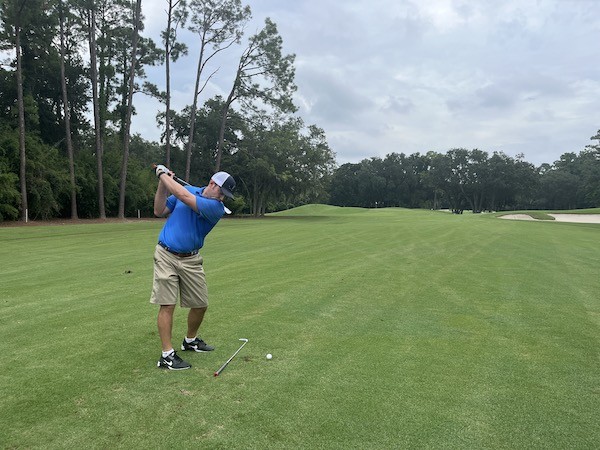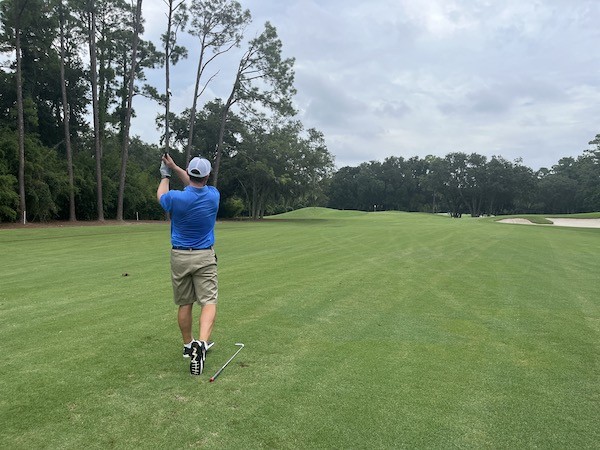 One of the techniques Doug really worked on with Dave was direction and stance. By placing a golf club in the direction of the flag and keeping his feet parallel to it, Doug was able to fix Dave's aim and provide him with more confidence in his stance and swing.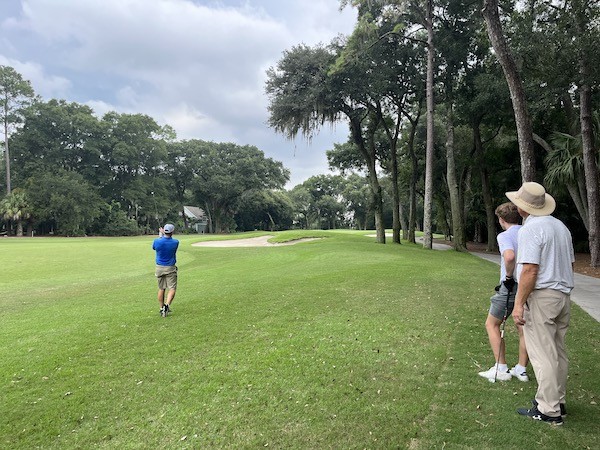 Dave and Michael both grew as players and individuals during their time here. They overcame challenges, celebrated triumphs, and traded high fives along the way. On the last day Dave said, "We both got better in our time here. We look forward to playing together when we get home and enjoying the game for the rest of our lives." On what they took from his lesson, Doug added "They picked up great golf mechanics and an understanding of the true spirit of the game."