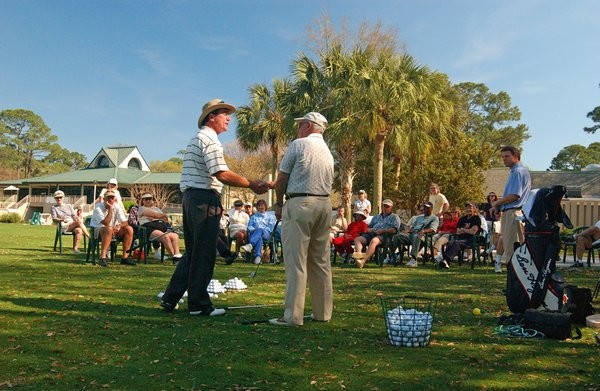 Our own Doug Weaver knows a thing or two about hitting the golf ball a long distance.
The legendary Palmetto Dunes Director of Golf Instruction was the 2017 Carolinas PGA Teacher of the Year and was selected for induction into the Lowcountry Golf Hall of Fame that same year. Doug is Golf Digest magazine's No. 2 Instructor in South Carolina and has been named the Hilton Head Island PGA chapter's "Teacher of the Year."
Yet, before he settled down on Hilton Head Island and began teaching at Palmetto Dunes, Doug battled week in and week out against the world's best on the PGA Tour.
His professional breakthrough came in 1987 at the Zell Wood Country Club Open in Florida, where — despite playing in a final group with three former PGA Tour pros — Doug birdied the 72nd hole to capture his first title.
He went on to win 14 mini-tour events and earn his PGA Tour card in 1988. At the 1989 U.S. Open, Doug gained notoriety as one of four PGA Tour pros in less than a two-hour period to record a hole-in-one on the sixth hole at Oak Hill Country Club.
Doug definitely could (and still can) strike his iron shots with great precision.
But Doug was also one of the longest drivers of the golf ball in the game, as well. In 1989, he ranked fifth on the PGA Tour in driving distance. And, by virtue of being one of the Tour's longest hitters, Doug regularly competed in various national long-drive competitions with tremendous success.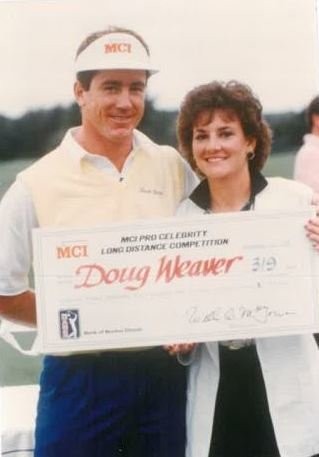 Doug maintains that the average golfer is capable of carrying the ball much further than their current total distance. He says a majority of golfers are sacrificing 30 yards of total distance off the tee — which subsequently makes the approach shots more challenging.
Doug says golfers can speed up their swing for more distance — and, as an added value, says it might help them reduce their waistlines, too.
"Let's consider the average approach shot distance on a par-4 hole at The Robert Trent Jones golf course as 160 yards," Doug says. "On hole No. 1, the approach shot must come in high and soft to avoid the bunkers on both the right and the left. On No. 2, there is forced carry over water. On No. 3, the front of the green is elevated and will not allow a ball to roll on — and bunkers border the sides. Go to No. 5, which is a par-3 measuring 160 yards, with bunkers front right and to the left.
"We see right away that long irons — hybrids, along with 6, 5 and 4 irons — into these greens put you at a severe disadvantage.
"Go back to the tee box and do the math," Doug says. "If you drive the ball 220 yards and are consistently left with 160 to 180 yards to the green, then you need to increase your swing speed.
"I have exercises and tools that are utilized by guys like Phil Mickelson and Tiger Woods — both of whom played at Palmetto Dunes during their college days — that keep them among the longest hitters in the game, even though they are more than 40 years old now.
"We can do this by you sending me your swing video from your basement or yard. I return a video to you making my suggestions for a faster swing. I can provide you the appropriate exercise protocol that will increase your swing speed — and decrease your waistline. This will result in your average approach short decreasing … thus improving … by 20 yards — from a 160-yard average to 140 yards.
"Wouldn't you rather use an 8 iron into the green?" Doug asks. "Not a 6 or 5?"
How to get started:
1. Send a video of your swing to Doug at dweaver@palmettodunes.com or text it to (843) 338-9598.
2. Come visit Doug at The Palmetto Dunes Golf Academy by calling (866) 744-7558.