Sea Turtles begin nesting on Hilton Head Island's beaches in May through October. All sea turtles are listed as endangered and the Loggerhead is the most common sea turtle species nesting on the beaches of Hilton Head Island, South Carolina. A female turtle may travel over a thousand miles to make it back to the same beach where she hatched as a baby, and it's this same beach where she will lay her own eggs as an adult.
But did you know that only 1 in 1,000 sea turtles will make it to adulthood? What can you do to ensure the safety of turtle moms and hatchlings?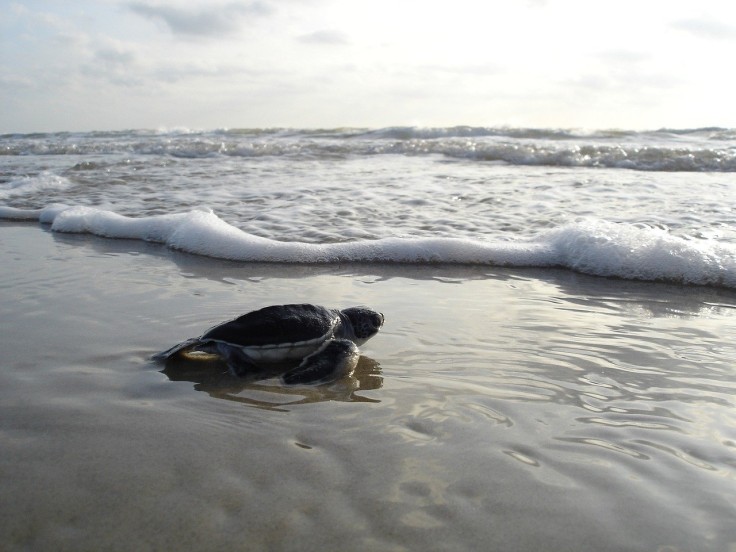 Leave only your footprints on the beach. Be sure to flatten sandcastles and fill in holes when you're headed home for the day, they can create deadly obstacles and traps for tiny hatchlings.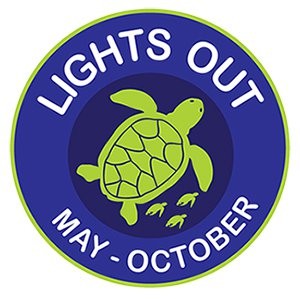 Lights out. Artificial light discourages adult turtles from nesting and attracts hatchings toward danger. Oceanfront homes must turn off outside lights at 10pm-6am through October. Blinds/drapes should be closed as well. To report light violations, contact Town of Hilton Head Island Code Enforcement Officers at 843-341-4643.
Protect the nests. Never disturb a sea turtle nest, a nesting sea turtle, or a hatchling. If you have your pets on the beach, ensure that they are kept away from nests too.
Put your stuff away. Remove any unattended beach furniture and other items from the beach at night. Mother turtles and hatchlings have died from entanglement in beach furniture.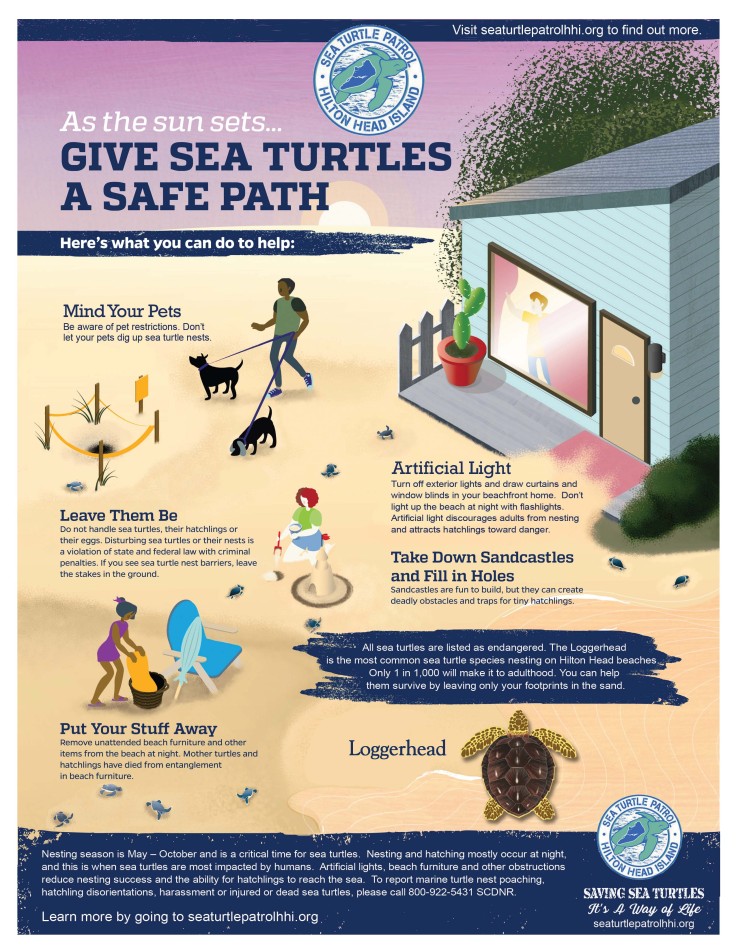 Palmetto Dunes Cares Hosts Turtle Talks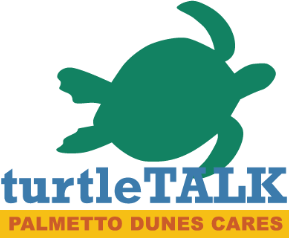 Interested in learning more about sea turtles and how you can help? Starting June 8 through August 24th, Palmetto Dunes POA will host a weekly Turtle Talk, led by a member of the Sea Turtle Patrol of Hilton Head. The talk will educate participants on what they can do to help preserve Hilton Head Island's hatching sea turtles and learn what is happening on our nesting beach. 
The program, designed for both visitors and residents, is fun, educational, and appropriate for all ages. The cost to attend is $20 per person (adults and children) and all children under the age of 12 require adult supervision. The Turtle Talks will be held on the beach at the Dunes House from 8-9 p.m. Online registration is required and this event sells out every week!
Event proceeds benefit the Palmetto Dunes Cares Fund, a charitable giving initiative targeting the areas of health, environment, arts and culture, community development, and education within the greater Hilton Head area.
Palmetto Dunes Turtle Trot 5k is Back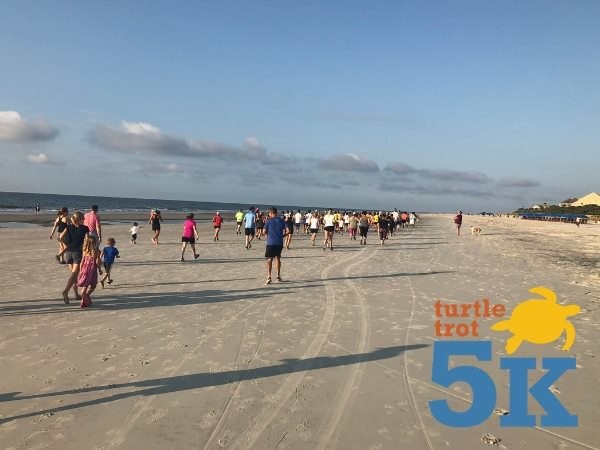 The Palmetto Dunes Turtle Trot 5k is back for 2022! Have fun while supporting a good cause. This is a family-friendly run series held on the beach in Palmetto Dunes in June, July, and August on Wednesday mornings and on Thanksgiving morning. Walk or run the 3.1-mile beach route while you enjoy the beautiful views of Hilton Head Island, South Carolina.
Registration is online only and is $25 prior to race day and $35 day of the race. Registration includes a t-shirt. Kids under 12 run for free and can purchase at t-shirt for $10. All races begin at 8 a.m., Wednesdays, June 9-August 24, and November 24 as well.
*Cut off for registration is race day at 7:30 a.m. Once you are registered, you can review the event info, pre-race packet pick up, parking, the race day schedule, and more on the PDPOA.RUN website.
As you can see, we love our sea turtles here in Hilton Head. Be sure to keep an eye out for one of our Loggerhead Sea Turtle residents during your next trip to Palmetto Dunes, and help us keep them safe!