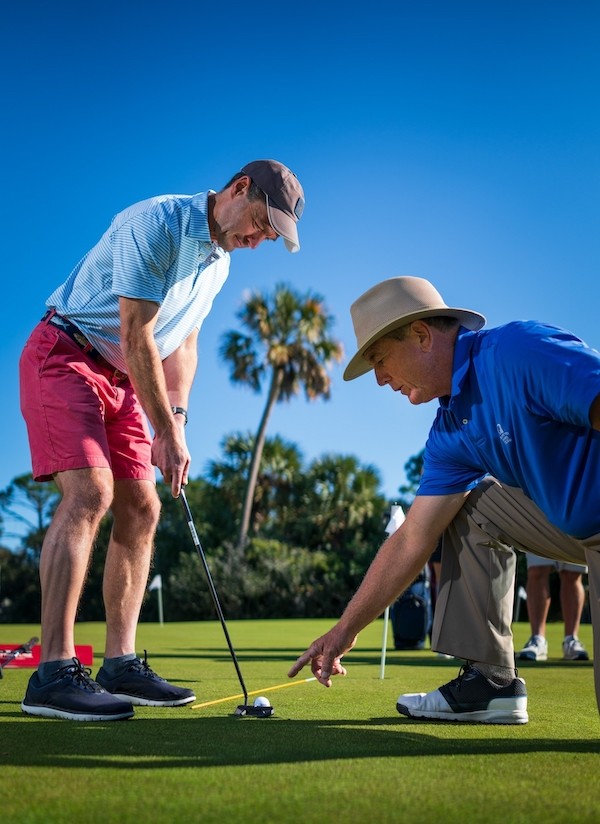 The award-winning Palmetto Dunes Golf Academy on Hilton Head Island, South Carolina features a staff of instructors that boasts more than two centuries — that's 200 years-plus! — of combined teaching experience.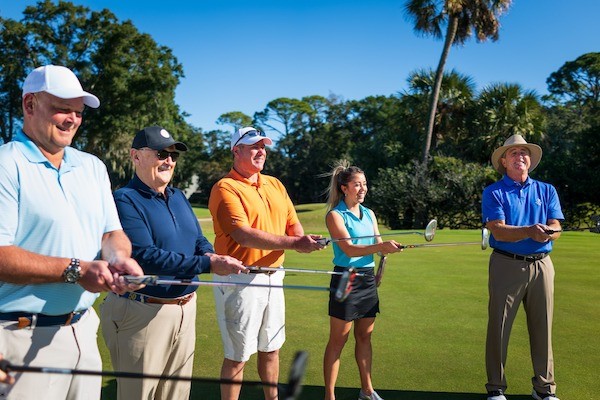 "We have three coaches with 30 years of coaching experience and five teachers with 20 or more years' experience," said Palmetto Dunes Director of Golf Instruction Doug Weaver, a former PGA Tour pro, U.S. Open record holder and Lowcountry Golf Hall of Fame member. "We incorporate teamwork in teaching our individuals by collaborating to assist students. We teach with 'one voice,' using different styles and insights with many years' experience in a patient and professional environment."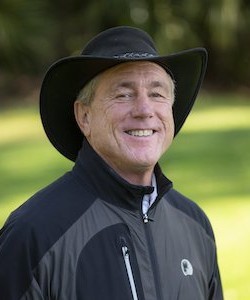 Doug is a Golf Digest South Carolina Top-Ten Instructor, and was named the 2012 Teacher of the Year by the Hilton Head Island PGA Chapter, and he was named 2011, 2012 and 2013 honorable mention as a U.S. Kids Golf Top 50 Instructor. He offers more than three decades of teaching experience, and has played and practiced with stars of the game like Vijay Singh, Retief Goosen, Tom Watson, Payne Stewart, Fred Funk and numerous others. 
When his tour playing career ended, instruction brought Doug back to Palmetto Dunes Oceanfront Resort. "Those great teachers are expressed through me every day," he says.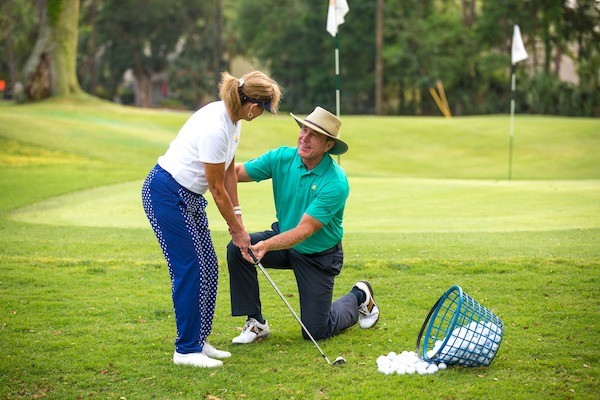 "One significant difference-maker at Palmetto Dunes is that students are able to take playing lessons from professionals who are still very competitive players," he said. "We've got coaches trained in golf exercise and mobility. And we take a holistic approach to instruction with our mental golf workshop. Plus, we offer covered practice areas, Palmetto Dunes Toptracer Range technology, two driving ranges and four excellent practice greens. You've got restaurants on site and a cool ocean breeze. It's tough to beat."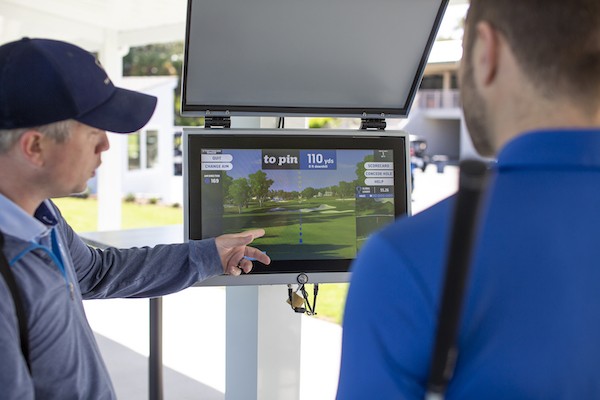 News of note: Golf Lessons Can Now Be Booked Online
You can now book a golf lesson at the Palmetto Dunes Golf Academy online with one of our professional golf instructors. To book your next lesson, click here.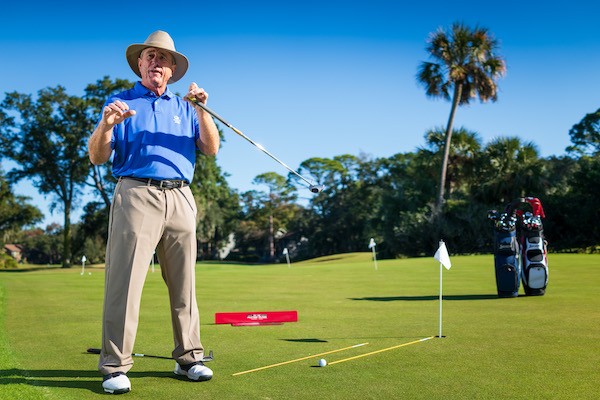 Meet the Palmetto Dunes Golf Academy Instructors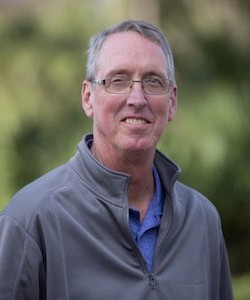 Palmetto Dunes' Director of Golf Clark Sinclair is a graduate of Presbyterian College who has been a member of the Palmetto Dunes staff since 1983 and has been teaching since 1986. Clark especially enjoys using video analysis as a teaching aid for golf students. At 6-foot, 8-inches tall, he has the distinction of being one of the tallest PGA of America members.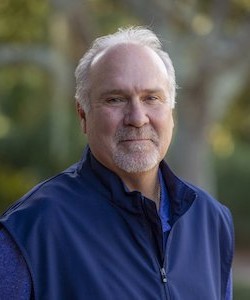 When Samm Wolfe, Head Professional at the Arthur Hills Course, was younger, he moved across town beside a family that played golf. "The mother of the house gave me a set of clubs and said go play," Samm says. "I had no idea what I was doing but it just kind a came naturally to me. I went on to play high school golf. 
"After college I was working in a juvenile detention center and playing golf in my free time. I played with a Pepsi salesman who delivered to Palmetto Dunes. I played well that day and he got me an interview at Palmetto Dunes and two weeks later I was hired and been here since then."
Samm has been a member of the Palmetto Dunes staff since 1986 and a teaching professional since 1988. Entertaining and affable, Samm believes he can fix any broken golf swing — while you're having fun. The Class A professional has taught students from all over the U.S. as well as Switzerland, France, Germany, Canada and England. "I have a great group of people I work with from all over the world," Samm says. "The Golf Academy gives us the opportunity to teach all kinds of students and make friends for life."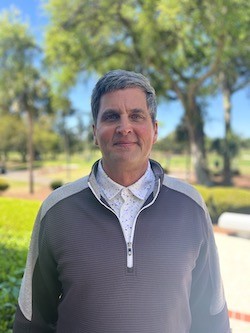 Originally from Kalamazoo, Mich., PGA Certified Professional Ed Brill received his golf training in the first Professional Golf Management school at Ferris State University. Ed is Titleist TP 1 Level 1 certified, and specializes in Aimpoint Technology and V1 Video Technology. He has been a golf professional since 1992, working as an assistant pro, head pro and teacher, and Ed says he learned a lot as a teacher with PGA Tour Academy, where he learned from many noteworthy instructors such as Mike Bender and Travis Fulton.  
Ed is also a proficient, scratch player. He has taught at numerous golf schools around the country and has given thousands of private lessons. Ed welcomes golfers of all skill levels, from beginners to tour players.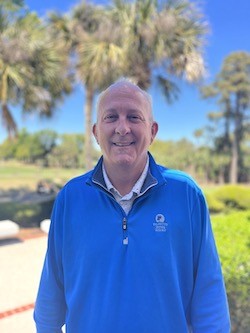 A Charleston, S.C., native, Edward Sires caddied for former Ryder Cup captain Tom Lehman in 1982 and 1983. He earned a Class A certificate from the PGA in 1997 and taught the James Island High School Golf Team from 2002 to 2006. He honed his golf skills while working at Kiawah Island Golf Resort, and earned a certificate in club fitting from Golfsmith International in 2005. 
Edward has taught thousands of players from beginners to advanced students for more than 30-plus years, and believes in not only teaching the basics in the golf swing and set up but also teaching the mental aspect of the game. Edward was on the Golden Bear Tour in 1998 and won two tournaments in 2010 on Hilton Head Island. 
"I came to Palmetto Dunes in 2006 and I've loved every day of working with my fellow golf professionals and teaching the students, members and beginners of the game here at Palmetto Dunes Golf Academy," Edward says. "All the golf professionals here at Palmetto Dunes care about the students and we stay in contact with the student after the lessons. I often send videos and other helpful tips for the student to try at their home golf course.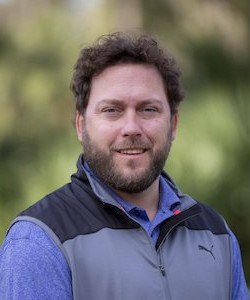 George Spinella graduated from Siena College in 2003 and the San Diego Golf Academy in 2005. He is first assistant at the George Fazio Course and has been teaching at Palmetto Dunes Golf Academy since 2006.
George said he enjoys teaching players of all ages and skill levels.
"I've been playing golf my whole life and decided to make it a career," he said. "I studied at the Professional Golfers Career College and have a degree in Professional Golf Management. I was recommended by a teacher to check out the Palmetto Dunes Academy to teach golf. 
"The Palmetto Dunes Golf Academy is unique because of the number of talented instructors available all week. There is a teacher for every skill level of golfer, which makes the game enjoyable for everyone."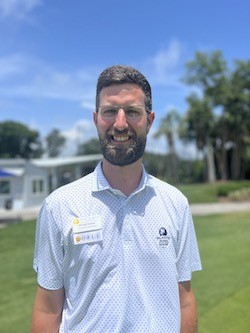 A PGA Associate, Michael Decker is passionate about helping golfers improve their knowledge of the game and enjoys working with golfers of all ages and skill levels. He believes he can fix any swing and help any golfer reach their fullest potential.​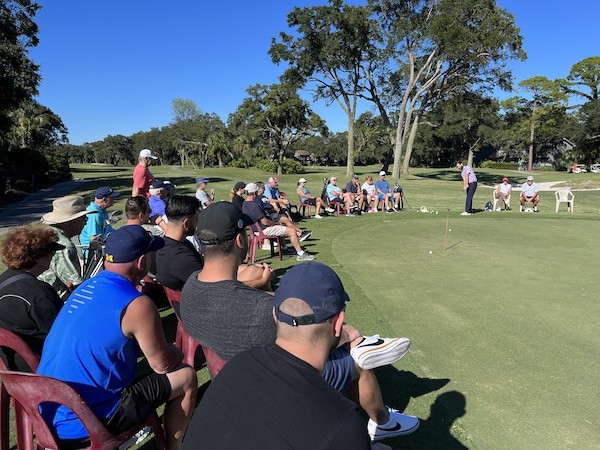 "We have an amazing group of instructors that help each other out and work together to help make students going through our programs succeed. We offer daily clinics that cover the most important parts of the golf game so students are able to work together and learn in groups. I start it off on Monday with putting, and it's always fun setting the bar for the week developing good fundamentals that transition into the other areas of your game. Putting is where most of the scoring happens, and it is widely considered to be the most vital skill set to learn on while on your journey to shooting lower scores. We also offer private lessons so students can receive one on one time with more in detail instruction, and course management strategies."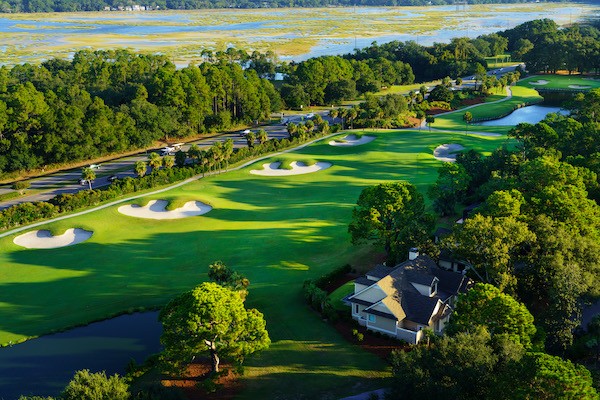 Like Doug, Michael says one of the most attractive parts of the Palmetto Dunes Golf Academy is the setting itself. "Palmetto Dunes is well known for golf courses that highlight the beauty of the Lowcountry," he says. "Ocean views, marsh, lagoons, palm trees, oak trees, native grasses, wildlife, and even a lighthouse. We have a beautiful piece of property, and I welcome you to come learn the game, improve your skill set, and have fun with us here at the Palmetto Dunes Golf Academy."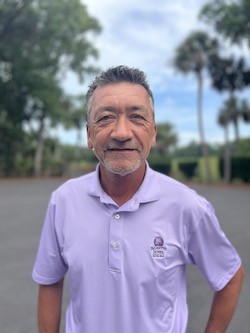 Tim Ashley is a PGA Class A professional who has been playing golf for three decades and teaching for the past 10 years. "I love golf simply because it's the absolute greatest game in the world and can be played and enjoyed even in our elderly years," Tim says. "The Palmetto Dunes Golf Academy offers students some of the best instruction around. We have an assortment of experienced instructors that share a passion for the game and are excited to teach for a living. The academy teaches all aspects of golf and all ages and skill levels. Our students get to spend time and money with professionals who are committed to improving their game."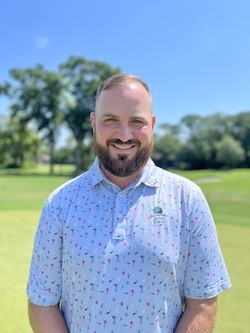 PGA Associate member Sean Ritter says he started playing golf at a young age and always loved the challenges and learning how to fix what he was doing wrong. "I played some competitive golf when younger but never thought I could do anything with it," he admits. "After realizing I wanted to do something with golf for a career, I attended the Professional Golfers Career College (in Bluffton, S.C.). I focused on the teaching side of golf and loved it. I have since started working on my PGA book work to become a Class A professional." 
Sean was recommended to Palmetto Dunes by a teacher Michelle Dion, who told him he could continue learning from Doug Weaver and advance his teaching career at Palmetto Dunes Academy. "Learning from Doug, as well as the other teaching pros, has brought me above and beyond as not only a teaching professional, but as a golfer," Sean says. "I enjoy teaching juniors of all skill levels and seeing them light up with the same joy for the game as I have always had. Lessons with all skill levels show me the game is still growing and I'm happy to be helping it grow at Palmetto Dunes."
The Palmetto Dunes Golf Academy Team is Approachable, Entertaining and Sensitive to Different Learning Styles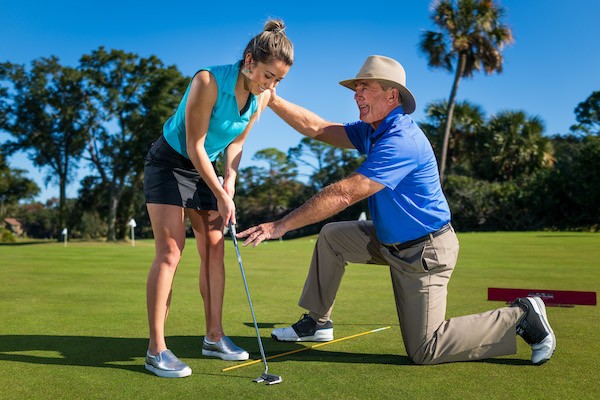 A recent first-time golfer said he had a chance to learn from the excellent teachers at Hilton Head Golf Academy, specifically mentioning Tim, Ed and Doug. "My lessons were filled with tips, mechanic fixes, and even photos and videos, which highlighted my golf swing issues," the customer writes. "This was immensely helpful and provided me with material to work on in the future. I highly recommend the private lessons at Palmetto Dunes if you are a beginner because the teachers are patient, experienced and so much fun to learn from!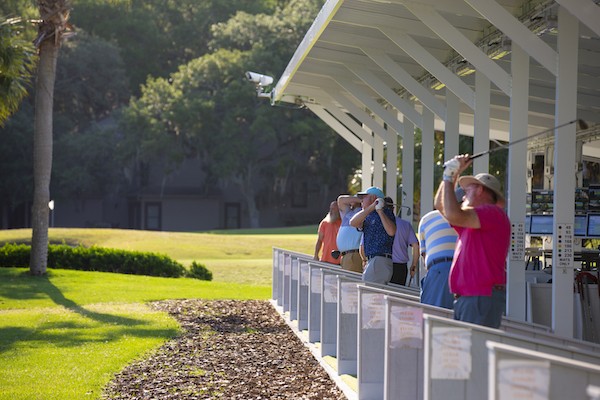 "The staff is also very friendly and I had a chance to chat about the lessons and some unique facts about these three Hilton Head golf courses. Their state-of-the-art Toptracer Range technology allowed me to analyze my shots with different clubs and I'm able to log my stats using the iPhone app. Overall, a beginner of any age would be well served by beginning their golf journey at Palmetto Dunes and their three spectacular courses."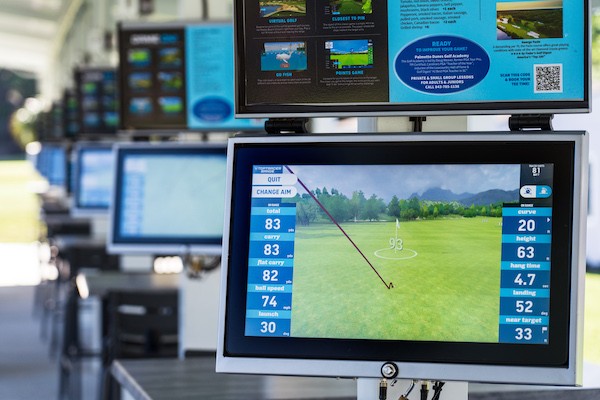 "The teachers at Palmetto Dunes Golf Academy are approachable, entertaining — very sensitive to different learning styles — and available for the long term," says Doug Weaver. "We also emphasize golf mobility. Our teacher can share exercises and stretches appropriate for a student's needs. We want our students to enjoy golf for a lifetime." 
Book a golf lesson online at the Palmetto Dunes Golf Academy here or call (866) 455-6890.