In 2000 — following the birth of Doug's two children, the death of a parent and his transition from playing to teaching — Doug earned spot in the Heritage via the Carolinas PGA Section Qualifying. That year, he played a practice round with Vijay Singh two days after Singh had won the Masters.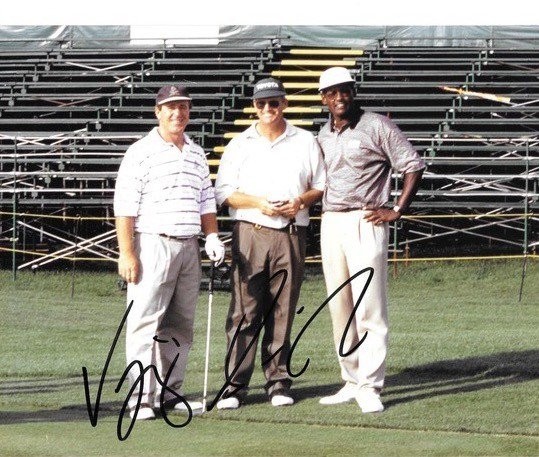 Doug earned another spot via Section Qualifying in 2002. At the time, Doug was hosting a TV show for the local station, WHHI, and he played a practice round with Paul Azinger. "Paul was always a good role model and someone I could talk to through the years," Doug said. "He's cheered me on and encouraged me. We got a lot of great inside the ropes material for the TV show during that round."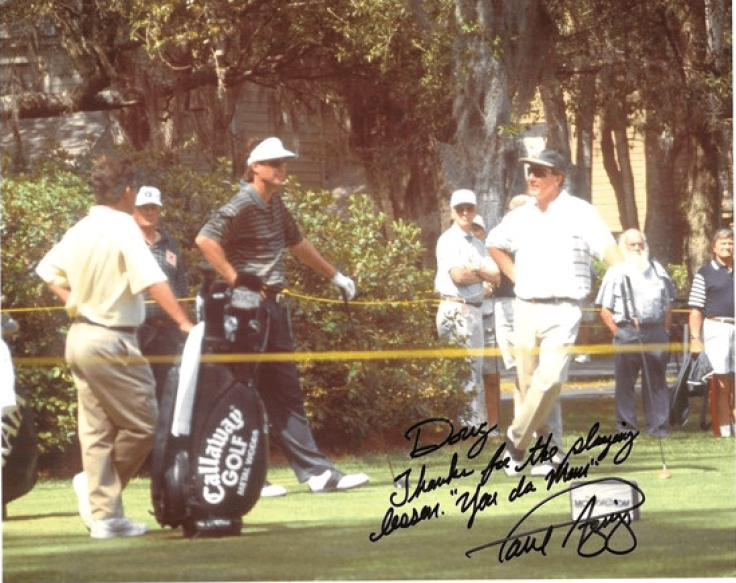 That Friday afternoon in 2002, during the tournament's second round, Doug's father collapsed with a heart attack just off the 13th green, as he was waiting for Doug's group to approach. Doug recalls standing in the 13th fairway when the event took place. "I could see the medical people taking care of someone," Doug said. "He wasn't dead, but he was close to it. Fortunately, the medical guys were close by. My caddie was crying. But I had this peace about me, knowing dad wanted to die either hunting, or on the golf course. I also knew he wouldn't want me to quit."
However, the tournament director arranged for a highway patrol car to rush Doug to Hilton Head Hospital, so he could be with his dad. "By the time I got there, they had revived him," Doug said. "When I walked in, he said, 'Why the hell are you here? Didn't you finish your round?'"
Since 2003, for nearly two decades Doug has quietly hosted a Golf Class for the PGA Tour players' children at Palmetto Dunes Golf Academy. "The Tour invited me to do it," he said. "It's a two-hour clinic. The PGA Tour pros' kids come to Palmetto Dunes and I work with them. It's been a fun thing. You see the kids grow up through the years. Some of the kids, their dad's a golfer, but they are clueless. But, some of them are very talented."
Doug's lovely wife, Trish, even caddied for Doug one year during the Heritage Pro-Am. "It was a dream come true to stroll down the middle of the fairway on 18, carrying Doug's bag while viewing the lighthouse, where he gave me my engagement ring at the top," Trish recalls. "Looking back, we should have had a bodyguard to keep friends from stopping him between holes for hugs and pats on the back. We have so many wonderful memories and stories from Doug's playing days." 
Doug was inducted in the Lowcountry Golf Hall of Fame in 2017. He has been awarded Hilton Head Island's "PGA Teacher of the Year." In 2017, Doug was also named "Teacher of the Year" for the Carolinas section of the PGA of America (CPGA) and was recently named one of Golf Digest's "Best Teachers in the State of South Carolina."
In addition, Doug captured the 2019 "Player of the Year" for the CPGA's Lowcountry area, which includes Charleston, Beaufort, Jasper, and Colleton Counties.
Doug and Trish say their dream now is for Doug to qualify for the Heritage one more time, so their son, Kyle — a full scholarship football player at The Citadel, and also a talented golfer — can caddie for his dad. "That would be a dream come true," said Trish. 
Learn more about golf at Palmetto Dunes and planning your next Hilton Head golf getaway here.