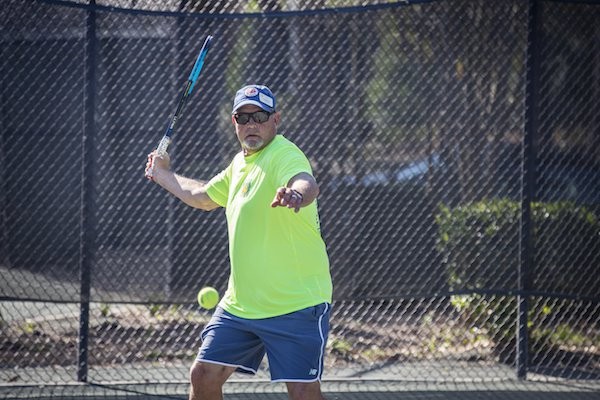 We've got so many fantastic clay courts at our award-winning Tennis Center that a game of tennis is a must when you're on vacation at Palmetto Dunes! We want to make sure that you have fun on the courts and that you're not too sore that you can't enjoy a round of golf, or bike ride to the beach. That's why we asked our Head Tennis Pro Eric Wammock to tell us his top three tennis warm-ups tips.
Tip: Establish a good rhythm.
This means you should hit the ball only as hard as you and your opponent can effectively and comfortably keep it in play. This is to gain confidence and help prevent injury. Don't go too fast too soon. If there are a lot of mistakes and the rhythm isn't established your confidence is likely to suffer.
Tip: Choose a warm up that's appropriate for the game you're playing.
If you're playing singles, then you should hit a majority of groundstrokes followed by some volleys, overheads and serves. If you're playing doubles, get to the net quickly in the warm up to get a large amount of volleys and overheads in, then go back to the baseline for ground strokes. Many people spend 90% of the doubles warm up hitting groundstrokes, when a much larger percentage of the match involves volleys and overheads. So, players who hit groundstrokes for 90% of the doubles warm up are not adequately preparing for the match they're playing.
Tip: Take it easy.
Remember that it's just the warm-up. Did you know that Eric has had the privilege of playing several former grand slam champions? We asked him what it's like playing against the best and he said, "One of the things I remember the most his how nice and easy the warm up felt because they kept the ball in play and hit it very cleanly to me. It was only during the match that I began to suffer their ability!" The point being that the very best in the world warm up the nicest to set up a great match. Win the match – not the warm up!
What are your favorite tennis warm ups? Improve your game and learn some more tips with tennis clinics and lessons at Palmetto Dunes. Then get out there, get warmed up, and get ready for a game, set, and match!