HILTON HEAD ISLAND, SC (July 2021) — The 2021 Jimmy Self Invitational will be contested this month — Friday, July 30 through Sunday, August 1 — at the Arthur Hills Course at Hilton Head Island's Palmetto Dunes Oceanfront Resort. This will be the 26th annual playing of the prestigious junior golf event.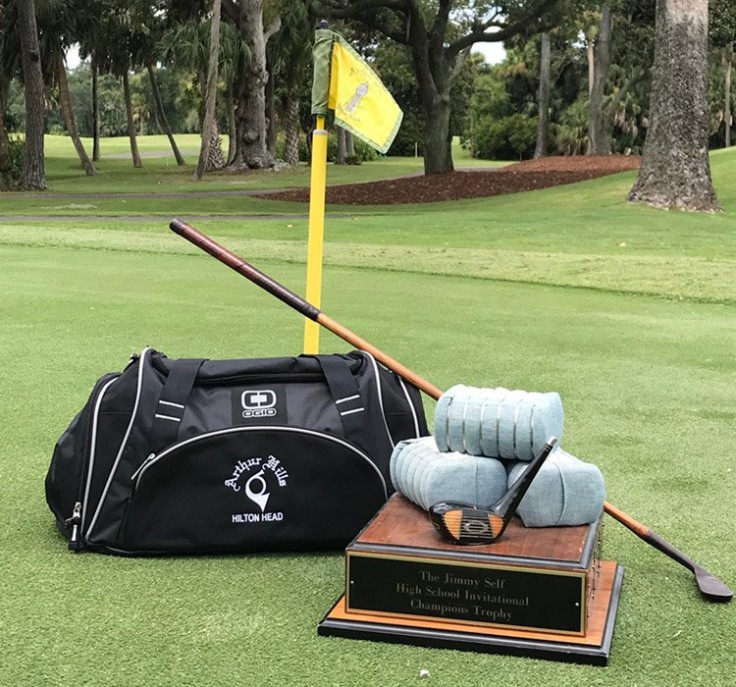 Named in honor of a man who gave so much to golf, the Jimmy Self Invitational has become one of the top high school tournaments in South Carolina, and has hosted some of the top junior players in the southeast. The Jimmy Self Invitational is one of the major events for the South Carolina Junior Golf Association (SCJGA).
Indeed, golf always held a special place in the life of James C. "Jimmy" Self Jr.
An outstanding player, Self captained the Clemson University golf team in 1964 and 1965. He later served on the Board of the South Carolina Golf Association from 1969 to 1971 and remained generous to the game of golf — particularly junior golf — in the years that followed.
Self served as the Chairperson for Greenwood Development, which was founded in 1979 to acquire Palmetto Dunes Oceanfront Resort on Hilton Head Island.
Jimmy Self died tragically at 52 years old in May 1995, when he was hit by a truck crossing a busy highway. A room at Clemson's golf team clubhouse is named in his honor. A Greenwood Index-Journal editorial on May 8, 1995, read, "His good works, quiet and unspectacularly, had a positive effect on many. They will never know, and that would make him happy. That was Jimmy Self."
The Jimmy Self Invitational was introduced in 1996 as a fitting tribute to a man who devoted so much of his life to the game.
"My cousin, Thomas Self, played a lot of junior golf," said Self's son, Furman. "My uncle was taking him to a lot of junior golf tournaments with the South Carolina Junior Golf Association. It was during that summer he approached my older brother, Jay, and myself to ask what we thought about possibly having a tournament in our father's honor."
The 54-hole event has been presented by Greenwood Development since its inception. The original idea was to rotate the tournament's location between Greenwood Development properties in Charleston, Greenwood and Hilton Head Island. Now the tournament permanently resides at the Arthur Hills Course at Palmetto Dunes.
The inaugural Jimmy Self Invitational at Coosaw Creek in North Charleston was won by four-time PGA Tour winner Lucas Glover, including the 2009 US Open.
Glover ended up winning the Jimmy Self Invitational in back-to-back years, as did another future PGA Tour player, D.J. Trahan, in 1998 and '99. Other former champions include PGA Tour members, 2011 FedEx Cup Champion Bill Haas, Kevin Kisner, Ben Martin and Bryson Nimmer.
Among the other former contestants who have gone on to PGA and LPGA careers are Dustin Johnson, Lauren Stephenson and Natalie Srinivasan, who won the 2020 ANNIKA Award honoring the year's most outstanding female collegiate golfer following her senior year at Furman.
Another former Jimmy Self Invitational contestant, Stephen Behr, was a Byron Nelson Award winner at Clemson University, recognizing college seniors who demonstrated character, integrity and citizenship throughout their college golf career. But Behr hasn't pursued pro golf. He is now one of the country's top-ranked Mid-Amateur players.
Last July, the Jimmy Self Invitational returned to Hilton Head Island for the 10th time. Hilton Head Prep golfer Camila Burnett captured the girl's championship, firing a 2-over 74 in her final round to finish at 219, four strokes ahead of defending champion Buggy Reinke. Burnett posted an even-par 72 in the second round to take a two-shot lead into Sunday's final round. She had three birdies in her final round. May River golfers Sydney and Kylie Bowes finished sixth and seventh, respectively. Sydney fired a 236 and Kylie a 239.
Simpsonville's Major Lenning won the boys tournament in a playoff over Hilton Head's Nolan Hawkins who recorded the best final round with a 4-under 68 and finished tied with Lenning at even-par 216 to force the playoff. On the first playoff hole, Lenning won it with a par to claim the title. Bluffton's Andrew Swanson, the second-round leader, finished third at 218. Beaufort's Jerry Bruns tied for fifth at 221.
Hilton Head's Max Green finished tied for ninth at 224. Green had a hole-in-one in the final round on the Arthur Hills' par-3, third hole.
This year's competition at Palmetto Dunes continues the Jimmy Self Invitational's legacy, adding to South Carolina's rich history of amateur and junior golf.
"My father was a great golfer in his own right," Furman Self said. "He knew that in the game you meet a lot of great folks. He always said it's the only sport where you call a penalty on yourself. That says a lot about the integrity of the people who play the game."
Media Contacts
Martin Armes, (919) 608-7260, martinarmes@nc.rr.com
Brad King, (336) 306-9219, king@bradkingcommunications.com