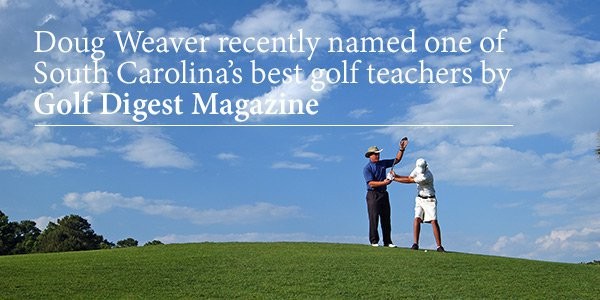 HILTON HEAD ISLAND, S.C (October 2015) — In the November issue of Golf Digest, in homes and on newsstands now, the venerable magazine ranks the "Best Teachers in Every State" as voted on by their peers in the golf instruction industry.
Palmetto Dunes Oceanfront Resort on Hilton Head Island is pleased to announce that its longtime Director of Instruction, former PGA Tour professional Doug Weaver, was ranked as the second-best instructor in the state of South Carolina.
"This is a vote from my peers, so I am genuinely humbled," said Weaver, who was previously awarded Hilton Head's 2012 "PGA Teacher of the Year."
In addition to its trio of outstanding golf courses, Palmetto Dunes Oceanfront Resort operates one of the world's top golf academies, offering a variety of programs for golfers of all ages. Weaver heads a staff of teaching pros that provides hands-on instruction to golfers with proficiency and patience.
"A ranking like this is quite an honor considering the number of outstanding instructors there are, in one of the country's best states for golf," said Palmetto Dunes Vice President of Resort Operations Brad Marra. "All of us at Palmetto Dunes Oceanfront Resort are proud to have Doug Weaver head up our outstanding team of golf instructors."
Along with his weekly TV show and monthly golf tips that have made him somewhat of a celebrity on Hilton Head Island, Weaver is renowned as an instructor for his infectious enthusiasm and energy, encouraging and assisting his students to have more fun playing the game through a wide range of games, drills and other methods.
"(I) received the two best golf lessons of my life with the head golf professional Doug Weaver this past weekend," wrote one Palmetto Dunes guest on TripAdvisor. "One, during their "back to basics" clinic, the other an individual lesson. Never has the golf swing made so much sense!"
"We vacationed in Hilton Head last year and I took the ladies-only clinic with Doug Weaver," wrote another. "I played the best golf of my life this season and enjoyed the game so much more!!"
"I just spent four days with Doug and cannot say enough about his laid back teaching style and simple lessons to improve your game. I was comfortable playing golf and also open to really being able to play a different game. Doug gave me the tools to implement new swings and approaches that will improve my joy of the game."
Weaver once made history on the PGA Tour. As a rookie in 1989, during a breathtaking span of one hour and 50 minutes, Weaver was one the first of four U.S. Open contenders at Oak Hill Country Club to ace the sixth hole. Nick Price, Jerry Pate and Mark Wiebe were the other three.
The historic event became the highlight of a professional career for Weaver, who first moved to Hilton Head as a 17-year-old prep athlete, later playing at Furman University alongside Brad Faxon.
Weaver eventually captured 14 mini-tour events and he earned his PGA Tour card in 1988. He played in PGA Tour events for 6 years before returning to Hilton Head Island full time to teach and spend more time with his family.
Nevertheless, it was an experience that Weaver firmly believes trained him well for his ultimate calling. "Today, I ask my students, 'How much are you willing to invest?' Weaver said. "I know what it takes, and if you aren't willing, I can help you with another game plan. But let's be realistic and enjoy the journey."
His experience has paid off, as Weaver has once again been honored for his standing at the top of his profession.