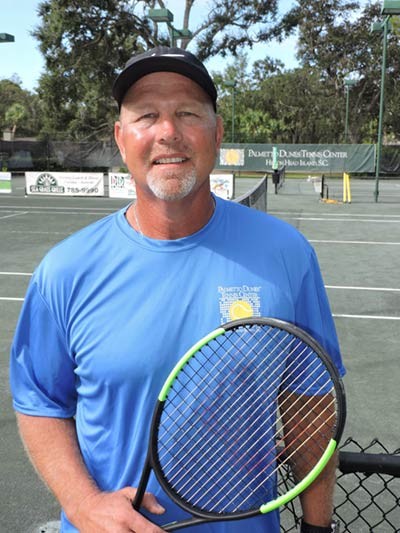 HILTON HEAD ISLAND, S.C. (October 2017) — Palmetto Dunes Oceanfront Resort on Hilton Head Island has hired a new head tennis professional.
Eric Wammock, USPTA Elite Professional, has been in the tennis industry for 33 years. Most recently, Wammock was the owner of Hilton Head Island Tennis, a company that provided tennis programming for HHI Beach and Tennis Resort, helping earn the resort Top 50 status by Tennis Magazine.
Palmetto Dunes Oceanfront Resort is the ultimate tennis vacation destination for anyone who wants to improve his or her court skills. The resort has been ranked among "The 50 Greatest U.S. Tennis Resorts" by Tennis Magazine, ranked No. 4 in the world for instruction and programming, ranked No. 3 in the world for overall children's programs, ranked No. 2 in the world for best tennis pro shop and ranked in the Top 25 in the world overall by Tennis Resorts Online.
Palmetto Dunes also offers Pickleball, which is a rapidly growing sport that can be enjoyed by all ages.
As a player, Wammock was a college All-American at Florida State College and later All-Conference at Virginia Commonwealth University, winning the conference doubles title over the 11th ranked team in the country. Eric played professionally in 1990-1991 before moving to Sea Pines.
The former USPTA SC Pro of the Year has played tournaments, exhibitions and practiced with many top players including Stan Smith, Bjorn Borg, Monica Seles, Conchita Martinez, Johan Kriek and Mikael Pernfors.
"Palmetto Dunes is excited to welcome Eric as our new head tennis professional," said Palmetto Dunes Oceanfront Resort Director of Tennis John Kerr. "Eric will add tremendously to the outstanding international reputation our tennis facilities have earned through the years here at Palmetto Dunes."
Previously Wammock was the Head Tennis Professional/Club Manager at Sea Pines Resort. He worked at the resort for 17 years and was part of a staff that earned the tennis club No. 1 status nationally by Tennis Magazine.
Media Contacts:
Martin Armes, (919) 608-7260, martinarmes@nc.rr.com
Brad King, (336) 306-9219, king@bradkingcommunications.com