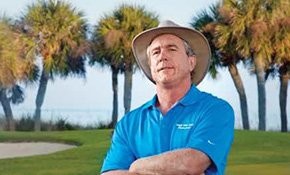 HILTON HEAD ISLAND, SC (November 29, 2017) — Longtime Director of Golf Instruction at Palmetto Dunes Resort Doug Weaver awarded 2017 "Palmer Maples Teacher of the Year" from the Carolinas Professional Golfers' Association for his outstanding service as a golf instructor.
Established in 1923, the Carolinas PGA Section of the Professional Golfers' Association has grown to be the largest of the PGA's 41 sections with almost 2,000 professional members. The CPGA embraces North and South Carolina, as well as a small portion of southern Virginia, with more than 800 golf facilities.
"It is a real honor to be awarded the CPGA's 2017 Palmer Maples Teacher of the Year," said Weaver, a former PGA Tour pro. "The thrill of my workplace is being with a student who experiences the exhilaration of improving their golf game and helping them overcome barriers to playing the game."
Weaver has made numerous contributions to golf instruction within the Section for many years. He hosts private and group lessons, conducts weekly clinics, volunteers time to free lessons for people of all ages, hosts Mental Golf Workshops, instructs lessons for young children while using songs to help them remember how to play, assists with Special Olympics programming, regularly writes articles for newspapers and magazines, and serves as the Hilton Head High School golf team's assistant coach.
A PGA Member since 1989, Weaver has instructed outstanding golfers like Luke Carpenter (Adams Tour Member), Evan Muscari (won West Virginia US Open Qualifying and college golfer at Concord College), and Freddy Reyes (a Drive, Chip, and Putt finalist at Augusta National).
Additionally, Weaver was a member of the PGA President's Council from 2005-2010 and has received numerous awards and recognitions including the 2002 Growth of the Game Award from the PGA Foundation and induction into the Lowcountry Golf Hall of Fame earlier this year.
In 2016, his colleagues voted Weaver as Golf Digest magazine's No. 2 Instructor in South Carolina and he was named the Hilton Head Island PGA chapter's "Teacher of the Year" — an honor Weaver also received in 2012.
The Palmetto Dunes Golf Academy grows golf with its daily offerings of private lessons, classes and multi-day schools.
"I love sharing golf with all people," Weaver said. "My staff at Palmetto Dunes Golf Academy and I enjoy growing golf and partnering with Boys and Girls Club, Boys and Girls Scouts, Special Olympics, HHI Chamber of commerce activities, Rotary, the local high School teams and more. I'm privileged to work with and for Palmetto Dunes Oceanfront Resort, which commits to excellence in everything they do."
To sign up for one of Weaver's free, Monday clinics at Palmetto Dunes Oceanfront Resort or any of its other world-class golf instruction programs, please call 866-744-7558.