Former Heritage competitor Doug Weaver, the longtime Director of Instruction at the Palmetto Dunes Golf Academy, dishes about golf's fun-damentals
One of our favorite weeks on Hilton Head Island every year occurs when the PGA Tour arrives for the Heritage of Golf. Longtime Palmetto Dunes Director of Golf Instruction Doug Weaver is a former PGA Tour professional who has competed in five Heritage tournaments during his career​.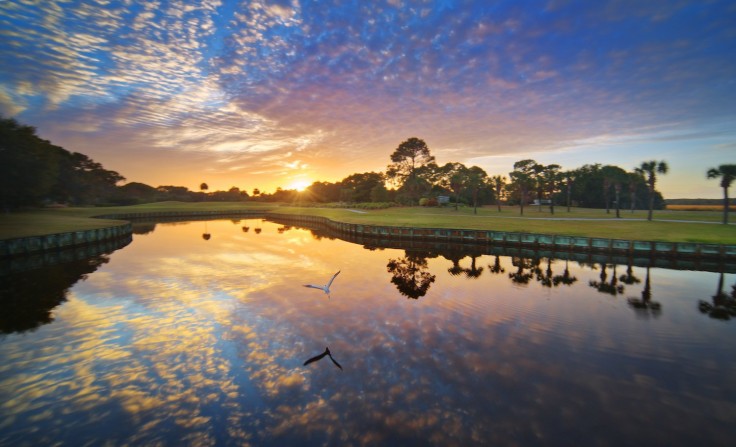 Doug first moved to Hilton Head as a 17-year-old prep athlete. He was taught and influenced by Sam Snead, Davis Love II and Jack Nicklaus — and Doug later played at Furman University alongside future PGA Tour star Brad Faxon. As a young man, Doug caddied during the Heritage several times. He went on to capture 15 mini-tour titles and played in PGA Tour events during six years spanning three decades, including three top-25 finishes.
Doug played his first Heritage in 1988 on a sponsor's exemption, while also competing successfully on a Florida mini tour. In 1990, Doug finished fifth in the Heritage's Long Drive contest after blasting his first drive 272 yards. For that year, he finished sixth overall in the Long Drive competition, which earned Doug a check for $15,150. That same year, he also conducted a junior clinic with popular PGA Tour pro Fred Funk.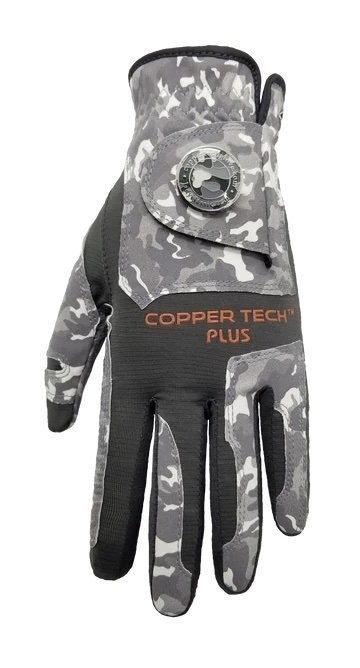 In 2000, Doug earned spot in the Heritage via the Carolinas PGA Section Qualifying. That year, he played a practice round with Vijay Singh two days after Singh had won the Masters. Doug earned another spot via Section Qualifying in 2002, and he played a practice round with future Ryder Cup captain Paul Azinger. Doug's lovely wife, Trish, even caddied for Doug one year during the Heritage Pro-Am. 
Doug recently wrote a column for Island Events called "Trusting the Process," in which he explains how there is "fun" in the fundamentals. 
"In golf, as in life, the fundamentals are key," Doug wrote. "You can stumble your way through without them, but true mastery will elevate your game and invigorate your experience. And as boring as mastering the basics sounds, I find it super fun to see the light bulbs go off when things fall into place and everything starts clicking. My students love it too."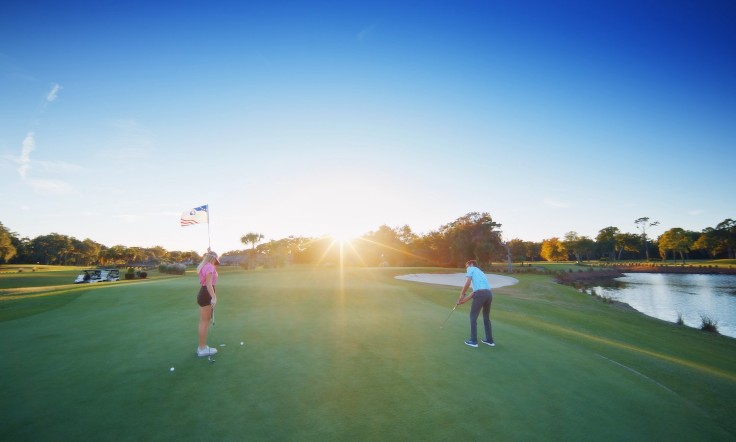 Here are some of Doug's key fun-damentals that all golfers should try to master as they improve their games: 
Grip: This is a fundamental you just can't skip. For your top hand grip, lay the handle in your fingers so that you would be able to see a wedding band. Then, allow the back of the hand to wrap over the club handle so that you can still see the logo on your glove or at least two knuckles. For your bottom hand grip, imagine you are shaking someone's hand, then relax or soften for more speed and tighten for less speed. 

Stance and posture: As a new golfer, keep your stance shoulder width or less until you develop your swing. Players with ten handicaps and lower can widen their stance for more power. Like playing second base or being ready to receive a tennis serve, the right athletic position keeps you mobile and well balanced through the swing. Stance and posture along with alignment are things you must "feel" rather than think about doing. Really, there's no better way to figure these out than with a PGA coach during a hands-on lesson. 

The all-important swing: What is it supposed to feel like? When students make it into the zone with their swing, I always ask them how it felt on an effort scale of 1-10. I hear the number four a lot. Also, "effortless," and "wow, look how far the ball went!" I ask where past efforts fell on the scale. Eight is a common response. "I would tighten my grip or push/pull with my arms." Setting up and executing over and over in just the right way leads my students—young, old and everything in between—to the same conclusion: "I let the club do the work and it just happened." This realization isn't intellectual, it's bone deep: something you will begin to feel as soon as you've got your fundamentals right on the nose.
If you are ready to play the game you've always dreamt of, come visit Doug and his outstanding teaching staff at Palmetto Dunes and let's get started!
Carolina's PGA Teacher of the Year, Doug Weaver conducts "Where Does the Power Come From?" a free interactive clinic and demonstration every Monday from 4-5 p.m. at the Robert Trent Jones Golf Course. Volunteer for a free lesson and some will win prizes! Call 866-455-6890 or go to palmettodunes.com for more information.