From 1979 until 1986, Doug enjoyed the Heritage like the rest of us, as a spectator.
In 1987, while Doug was a mini tour player living in Orlando, he got to know some of the PGA Tour regulars after he had been invited to join for them for a bible study class.
When the Heritage rolled around that year, to help himself become a better professional, Doug made a plan. "I said to myself, I need to pick one player and watch everything he does," Doug recalled.
That was when he saw Scott Simpson, who had already that year won the U.S. Open and the Greater Greensboro Open. Simpson had attended some of the same bible study classes as Doug.
"I said I'm going to watch everything he does," Doug said. "I notice immediately that his caddie is not there with his bag. Scott doesn't know me, but he recognized me from those bible school courses. Finally, 10 minutes before his tee time, he knows I've been following him like a stalker. He said, 'Would you caddie for me until my caddie shows up?'
"It turns out the caddie had a dental emergency and had to go back home," Doug said. "I ended up caddying for (Simpson) for four days. After each round, he would say, 'Do you have any questions?' It was so helpful watching how he handled himself. I learned so much that week. I was seeing everything I wanted all lived out."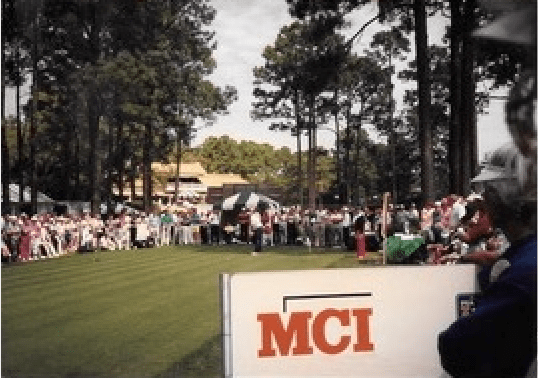 Doug played his first Heritage in 1988 on a sponsor's exemption, while at the same time he was competing successfully on a Florida mini tour. In 1990, Doug finished fifth in the Heritage's Long Drive contest after blasting his first drive 272 yards. For that year, he finished sixth overall in the Long Drive competition, which earned Doug a check for $15,150. That same year, he also conducted a junior clinic with popular PGA Tour pro Fred Funk.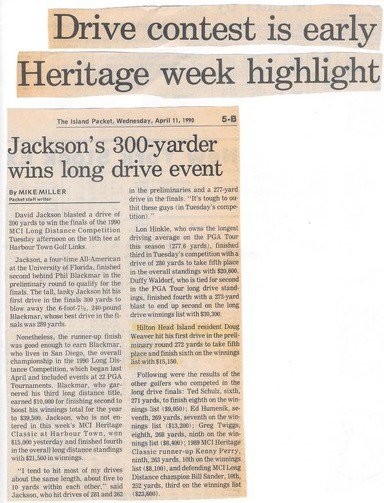 Learn more about golf at Palmetto Dunes and planning your next Hilton Head golf getaway here.
Read Part 1 here: Palmetto Dunes' own Doug Weaver shares some of his favorite Heritage memories